Put on your coziest blanket and socks and get yourself a cup of pumpkin spice tea. To help you get into the spooky mood, we've created a list of some of our favorite cozy mysteries set around Halloween. Indulge in the spooky thrills and unexpected twists that these cozy mysteries have in store for you.
Watch how a group of astute detectives solves a series of murders in a tiny town just in time for the annual Halloween party, visits a haunted house in search of Halloween spirits, and even defends an innocent dog. These cozy mysteries are the best kind of Halloween treat, full with thrills, chills, and belly laughs.
1. A Red Herring Without Mustard
In the hamlet of Bishop's Lacey, eleven-year-old detective Flavia de Luce asked a Gypsy woman to tell her future. She didn't expect to later find the poor woman being beaten almost to death in her own caravan in the early hours of the morning.
Was this an act of revenge by people who thought the soothsayer had taken a child from the area years ago? Flavia knows how satisfying it is to get even; getting payback is a fun thing to do when you have two mean older sisters. But how does this crime have anything to do with the baby that went missing?
As the red herrings keep coming up, Flavia has to sort through the fishy and foul signs to figure out who did bad things and what their dangerous secrets are.
Flavia is the most unique new voice in mystery fiction and makes the story hard to put down. She is smart, capable, and creative, but she still thinks and feels like a child, with only a crumbling upper-crust upbringing and a good dose of false modesty to keep her in check.
I'd love to meet the girl Bradley based his main character on. She must exist, because no grown man could have made up such a well-rounded character without a road map.
Don't let the fact that I'm talking about the main character of the book and the series fool you, though. Bradley's plots are well thought out and well put together. His stories aren't too serious, but they're still dark enough to please readers who don't usually like "cozy mysteries."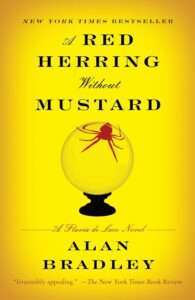 2. The Diva Haunts the House
Sophie's spooky Halloween decorations for a neighborhood event are terrifying. Natasha, a rival domestic diva, is also hosting a Halloween party this year, and it's going to be a doozy! But when Sophie gets there, she finds one of Natasha's guests dead in a spooky Halloween display and a pale partygoer with fangs running away.
The man has two puncture wounds on his neck, however it is unclear what caused his death. It doesn't take long for stories to spread like wildfire while Sophie's fiance Wolf, a homicide detective, looks into the case. Is it possible that the killer is the legendary vampire who once resided in Sophie's haunted mansion when it served as a boardinghouse? A diva housekeeper can never have too much garlic.
This is one of my favorite series, if not my absolute favorite. I'm so happy I waited until October to read it because I absolutely adored the spooky Halloween vibe. For once, the cast of characters wasn't too large for me to keep straight. Not as many brand-new faces appeared, but many regulars came back.
There were several aspects of this tale that I enjoyed. I really wish I was closer to Sophie so I could sample her delicious cooking. She makes it sound like nothing but joy and ease, right down to hosting a sleepover party for adults and teenagers. I appreciate how pets are consistently incorporated into the narrative.
I really enjoy the cliffhanger-like endings to each chapter. Natasha's snarkiness was toned down a bit, but I still enjoyed reading about her and her ex-husband, Mars. She drives me crazy at times, yet I still love her. There was a cold in the air, so the continual fire in Sophie's fireplace was very welcome.
And Sophie is one of my favorite people ever. She is easy to get along with and would make a wonderful best friend because of her composure under pressure. I can't wait to see what else Sophie and company get into in the future.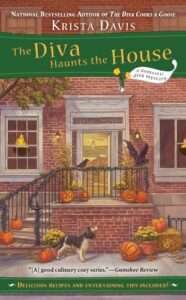 3. Hallowe'en Party
Joyce, a spoiled thirteen-year-old, tells everyone at a Halloween party that she saw a murder. After everyone doesn't believe her, she storms off to her house. A few hours later, though, her body was found inside the house, floating face down in an apple-bobbing tub.
Later that night, the 'evil presence' is detected, and Hercule Poirot is brought in to investigate. However, before he can begin his search, he must determine whether he is after a single killer or a pair of killers.
The plot drags in the beginning, but it picks up when Hercule Poirot is introduced. The pace of the work slows down somewhat in the middle as various plot elements are introduced. Having read some of her other works, I can state that this is a typical slow point in a mystery story, but the pacing in this one is unusually bad.
Despite the significance of the data presented, I couldn't help but wish for a more engaging narrative structure. The identity of the killer is what saves the novel. I will admit that I guessed it quite early on, albeit I did not anticipate all of the factors involved. After the truth was out in the open, I found myself appreciating the novel and its narrative arc more. In my opinion, there was a more effective way to reveal it.
However, I can't provide much of a critique because I'm not as skilled a writer as Christie. Though it isn't my favorite Hercule Poirot novel, I would read it again.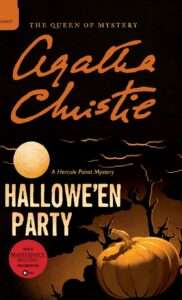 4. Aunt Dimity Beats the Devil
Lori Shepherd is starting to second-guess her decision to appraise a rare book collection at Wyrdhurst Hall as she listens to the rain pelt her Range Rover as it climbs up a steep embankment on the Northumberland moors.
A lovely, mysterious man and a trove of letters from World War I recount a story of doomed love and hint at a hidden treasure in the gloomy, neo-gothic hall that greets her upon arrival. Helping Lori piece together the mystery and bringing closure to a family torn apart by tragedy will require all of Dimity's extraordinary abilities.
Aunt Dimity is one of my favorite series. Since no two books have the same plot, I'm never bored reading them. The reading level is low, making them relaxing. And I can't resist a fantastic plushie with character.
Ghosts, secret stairwells, and a sleazy spouse, what else you want in a great book! Including romantic complications, historical battle details, terrorist plots, and background on England and Scotland. There's a taste for everyone here.
Try one of her books; I doubt you'll be let down.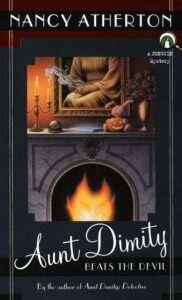 5. Wicked Autumn
As the new vicar of St. Edwold's Church in Nether Monkslip, Max Tudor is very content with his new position. For Max, a former member of MI5, the British domestic counter-intelligence agency, the sleepy English countryside seems like the ideal new home.
But his calm is disrupted when the Women's Institute president, who was much despised, is found dead at the Harvest Fayre. Although at first glance the death appears to be accidental, Max's MI5 training kicks in and he rapidly becomes suspicious of foul play.
This novel, the author's first, took place in a picturesque English village of imagination. Our "Nether Monkslip" map was beautifully designed by Rhys Davies, another great novelist, and simply by looking at it, you can get a feel for the kind of people who would call it home.
Former MI5 spy turned Anglican priest, Max Tudor. The annual Harvest Fair presents him with the opportunity to dust off his rusty talents when he is called upon to remove the pillar supporting the Women's Institute. Wanda Batton-Smythe is convinced that the Harvest Fair would fail without her leadership. It's true that she has some valid points, but she's also a dictator who takes pleasure in being in charge.
Almost no one notices when a murder occurs. Everyone had encountered Ms. Wanda at some point, but making friends? That's a major issue.
Before the murderer was identified, I had no idea they were involved. It made perfect sense, yet I managed to ignore it. The arrival of the next book is something I'll be anticipating.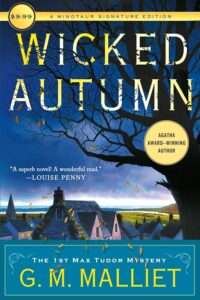 6. Death Overdue
Carrie Singleton has decided to leave Clover Ridge, Connecticut forever, but then she gets a job offer from the creepy, haunted library, packed with a ghostly librarian. Her first big event is a presentation by Al Buckley, a former homicide detective who says he knows who killed Laura Foster, a beloved part-time library assistant who was killed by a hammer 15 years ago.
When he asks the crowd for Laura anecdotes, he collapses and passes away.
After learning from the medical examiner that he died from poison, Carrie blames herself for pushing forward with the program despite opposition from her superiors. Carrie is haunted by her role in his death and is desperate to find the killer of the detective.
Carrie is fortunate to have a helpful ghost by her side. But as Carrie probes deeper into the mystery of Laura's case, startling truths emerge, and she risks becoming just like Al.
There's a lot of potential in the series, and the first book showed that. The story is not without its merits. A resident ghost in the library is a great touch, and the story focuses on family, friendship, and community. There are puzzles to unravel, and the setting and people are engaging. I would have liked to see more participation from our ghost.
I was hoping for a more eerie atmosphere at our supposedly haunted library. Too much of the novel was spent on Carrie's mundane everyday activities, and at times I found Carrie's actions to be grating. In spite of telling Dylan she can't pay the rent he's asking, she frequently eats out and purchases work clothes.
She also has a tendency to do what she wants regardless of the requests of others or the potential outcomes of her actions.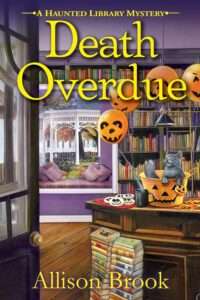 7. Trick Or Treat Murder
Lucy Stone is busy making orange-frosted cupcakes, reusing tutus for her girls' costumes, calming her rebellious pre-teen son, and nursing her newborn while the rest of Tinker's Cove prepares for its annual haunted house party and ghostly banquet.
But amidst the merriment, something very terrifying is taking place: an arsonist is at large, and when the owner of the town's oldest house is killed in the most recent fire, arson becomes murder.The search for the perpetrator heats up as the citizens of the town prepare to turn a rundown estate into a haunted house for the All-Ghouls festival.
The fun of trick-or-treating takes a sinister turn as Lucy's careless probing leads her dangerously near to a startling discovery that could destroy her carefully prepared plans.
My questionable trust in this series continues to hold on. In this narrative, protagonist Lucy Stone investigates a suspicious string of arson incidents. As a result, we get a glimpse into her daily life. Bill, her spouse, also receives some attention.
Since I won't find coverage like this in any film, TV show, web series, or comic book, it makes for a fascinating read. The fact that Lucy was burned not once, but twice sealed the deal for a perfect five-star rating.
Actually, with further reflection, I was fairly confident that it would receive that perfect score; however, a lackluster conclusion may have prevented that from happening. The pacing of this section of the book was excellent. Lucy Stone is a flexible individual who appears to be prepared for whatever may come as her children mature.
She is neither an outcast or a social outcast, but she does have pals. She has enough money to get by comfortably. She has a strong voice, but her education level is low. Intriguingly, she is. The remaining books can wait. The entirety of this series has my enthusiastic recommendation.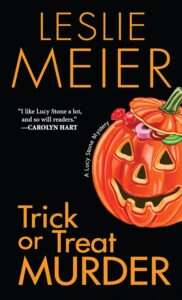 8. Wicked Witch Murder
Lucy Stone dismisses the mysterious Diana Ravenscroft as harmless quirk when she moves to Tinker's Cove and opens Solstice, a quaint small shop providing everything from jewellery to psychic readings. Lucy is still friends with the new girl after Diana gives her a startlingly accurate reading.
Not everyone in town, however, shares this enthusiasm. Even after Lucy discovers a body not far from her house, the chill of October makes her feel as though something sinister is in the air.
Convinced Ike Stoughton, a powerful businessman in town, has convinced the populace that Diana is a witch responsible for recent tragedies like Lucy's grisly finding and his wife's death. However, Lucy begins to wonder who is really stirring up trouble after learning that the murdered man was a magician and a close friend of Diana's.
By Halloween, her investigation into the things that go bump in the night has led her into a deadly web of secrets.
All of the new faces this time around are fascinating, unique, and even terrifying. When paired with the series regulars, a fun narrative takes shape. I could never have Lucy's amount of bravery. She uses her work interviewing people for the Pennysaver to get information about the crime.
Even though she doesn't think her daughters are interested in Wicca, Diana Ravenscroft strives to teach her everything she can.
There's a lot going on in here, like a major storm. The plot is complicated by a number of unexpected turns. It's a little hard to follow at times. That's probably because the story unfolded over a long period of time.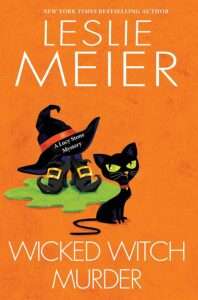 9. Death in the Stacks
The Briar Creek Library hosts an annual fund-raiser called Dinner in the Stacks, and Lindsey Norris and her team are getting ready for it. The gala dinner and dance is the library's greatest fundraiser of the year, and it's a dream come true for any bibliophile. However, the new president of the library board is busy making life difficult for the workers rather than soliciting donations.
Lindsey is determined to work with Olive Boyle to make the event a success, despite Olive's villainous behaviour. When Olive made a public threat against the library's newest employee, Paula, Lindsey finally gave in, cracking like an old book spine.
Lindsey expects to have another fight with Olive at the fund-raiser, but instead she finds Paula crouching over Olive's dead body. Even though Paula keeps secrets, Lindsey and the rest of the crafternooners are certain that she is not the one responsible for removing Olive from circulation. The conspiracy thickens, and Lindsey needs to find Paula's killer before it's too late….
Lindsey, Sully, Robbie (thankfully the love triangle in the book looks to be resolved), Beth, and even Ms. Cole (who continues to develop throughout the series) are just a few of the many wonderful characters in this series.
As much as I loathe the Lindsey/Sully/Robbie triangle in the earlier books, I do adore the interactions between Sully and Robbie, and there is a terrific sense of humour throughout the book that had me laughing more than once.
The murder mystery dinner at the library serves as the perfect backdrop for guest appearances by lovable characters from past works by McKinley. The mystery is well-executed overall, beginning with a victim so reviled that many people could have had motive to kill her.
Suspense and revelations at the end kept me guessing about the murderer till the very end.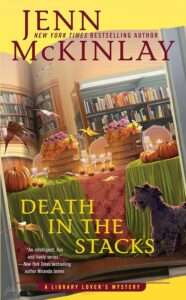 10. Rest in Pieces
Mrs. Murphy is completely smitten with the town's newest bachelor…. Perhaps she should give it more thought. Strangers aren't welcome in small communities, unless they're really attractive and single men.
Crozet, Virginia's local matchmakers waste no time in announcing Blair Bainbridge's arrival and how suitable he is for the town's recently divorced postmistress, Marry Minor "Harry Haristeen." Ms. Murphy, Harry's tiger cat, and Tee Tucker, his Welsh Corgi, both agree that Harry has a pleasant aroma.
Is the fact that he kills possibly his only flaw? Dismembered body parts start turning up in and around Crozet, making Blair the prime suspect. When a horrific clue suddenly appears in the thick of the autumn festivities, it does more to chill the blood of Crozet's best people than an early winter snow.
At this point, Ms. Murphy, Tucker, and Harry, a human companion, start sifting through the evidence, only to come perilously close to being the killer's next victims themselves.
The story is quite simplistic, and the outcome is totally expected. Reading about the adorable interactions between the many creatures (including a possum, two horses, a snake, and an owl in addition to the cat and dog) is a lot of pleasure.
And the character connections are progressing nicely; you get to know everyone in the first book, and catching up with them in the sequel feels like visiting with old friends. I hope the relationship that started in this book develops more in the next installment.
Even though I wouldn't classify this book as literary, it was great entertainment on a wet Saturday afternoon and, cost-wise, it outshines the vast majority of current blockbusters. Animal and mystery fans will enjoy this book.
Related Posts:
*As an Amazon Associate, 'The Crimson Books' earn from qualifying purchases.