Bridgertons series is undoubtedly the most talked about romance of the decade. I have listed Bridgerton prequel books in order for my loyal readers so they understand the timeline of events that happened before the original series.
Who says Regency England is the only place where you may find love? Intriguing and intense love stories set in the past await readers of the Bridgerton prequels.
We catch a glimpse of the Rokesby family, which had close relations to the Bridgerton family, in the late 1700s, during the Georgian era. We get a peek of various new relationships in this four-book prequel series, including that between Billie and George, Cecelia and Edward, Poppy and Andrew, and Georgiana and Nicholas.
The Bridgerton children's beloved king and queen, George III and Queen Charlotte, had aunts and uncles who lived rather romantic lives in the Georgian era, which came before the Regency era and was named for the three first king Georges.
While Britain was still at war with the colonies in 1779, the events of the first book in the Rokesby trilogy, Because of Miss Bridgerton, unfold. The only book that takes place in North America features a trip to New York City, and that book is The Girl With the Make-Believe Husband (Book 2).
The third installment, The Other Miss Bridgerton, is set in the year 1786 and takes place primarily at sea. First Comes Scandal, Book 4 in the series, is the last installment and is set in 1791.
By this time, the Bridgerton children—Anthony, Benedict, and Colin—have all been born to their readers. Both Violet and Edmund Bridgerton play supporting roles in the series, particularly in the novella First Comes Scandal.
The first book in the Bridgerton series, The Duke and I, is set in 1813.
You don't necessary to have read the Bridgertons before the Rokesbys, but if you have, you'll get a lot more out of them. Or, alternatively.
Bridgerton Prequel Books Ranked
1. Because of Miss Bridgerton
Because of Miss Bridgerton is the first book of Bridgerton Prequels in order. Any book by Julia Quinn is guaranteed to be entertaining. I'm leaving the critically renowned Bridgerton series for the first time in favor of the… prequels. The Bridgertons still have a role here; this is just a new generation of the family. These Bridgertons share the same intelligence and courage as their kin.
Unlike most women of the era, Billie Bridgerton stands out. She takes great pleasure in taking care of the family farm. She reads agricultural texts rather than novels and rides around in breeches, much to her mother's dismay. That's just Billie to the Rokesbys next door. She has always fit in with the crowd.
Billie's typical antics begin with her getting caught on a roof when she falls out of a tree while trying to save a kitten.
Unfortunately, George is the closest Rokesby. When Billie and George's ladder to freedom crashes to the ground, sparks fly on both sides. But George and Billie are finding that they actually…like each other the more time they spend together.
A misplaced sibling and an unsuccessful effort at spy training are among the obstacles that must be overcome before the couple can finally find each other and live happily ever after.
I wondered if watching Bridgerton would affect how much I liked the books, so I didn't dive headfirst into this season's installments. But I liked it, even if it took some getting used to because I wasn't familiar with the characters. The wit and sass of Julia Quinn's writing shines through in the thoroughly contemporary Billie.
I really enjoyed reading Billie and George's playful banter back and forth. While I thought the initial sequence on the roof lagged, I can't really complain about it because it serves as the catalyst for a blossoming love story.
Pall Mall makes an appearance and there are some hilarious scenes. (Nice to know that the previous generation of Bridgertons also reveled in making this a blood sport).
Many will enjoy this series because it has elements of both the old and the new. When the story relocated to London, where there is always more action and new characters introduced, I found that I was more engaged.
Overall, it was a good beginning to a new series, and I look forward to learning more about the Bridgerton family's history.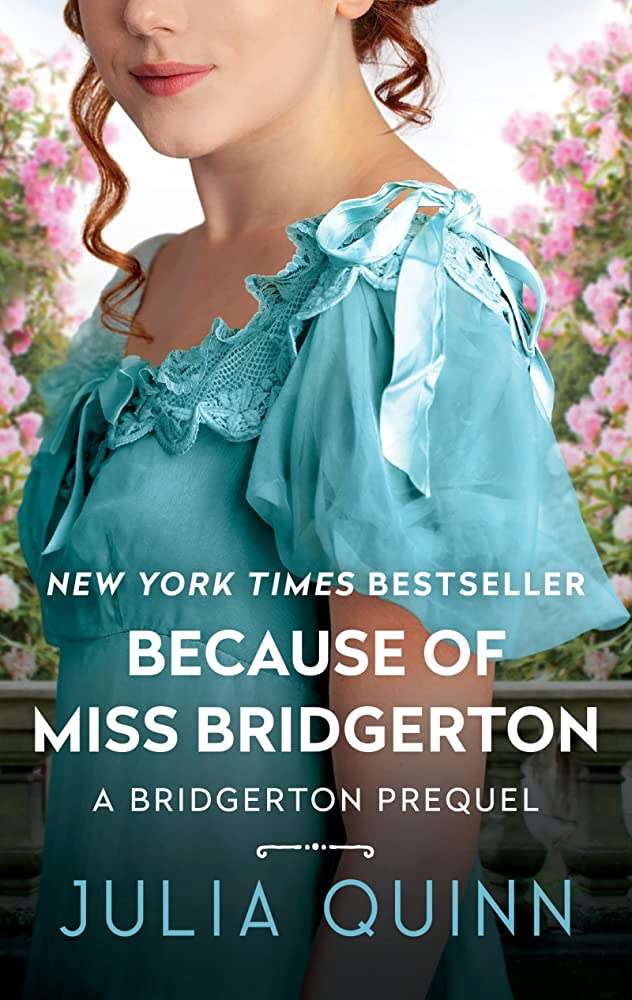 2. The Girl with the Make-Believe Husband
The Girl with the Make-Believe Husband is the second book in Bridgerton Prequels in order. Despite being the second installment of the Bridgerton prequels, The Girl With the Make-Believe Husband has very little to do with the more famous Bridgertons. This is the second tale of the Bridgertons' next-door neighbors the Rokesbys. Unlike the other books in the series, this one takes place almost exclusively in the United States.
Even though I was disappointed that we didn't get to see more of the other characters introduced in Because of Miss Bridgerton, this was still a lot of fun.
After hearing that her much loved brother was hurt, Cecilia Harcourt travelled from England to America. Cecilia isn't going to mourn the death of their father with her sleazy cousin who has come to town. There, she finds her brother's injured best friend, Edward Rokesby, but not her brother Thomas.
Cecilia lies and says that she and Edward are married to improve Edward's chances of getting the best care possible in the hospital. Fortunately for her, Edward has amnesia, so they had been corresponding for some time through Thomas's letters.
Edward is baffled that he has no recollection of Cecilia's proposal or wedding, and Cecilia's lie only expands from here. It works out well for them that they like and respect each other.However, the truth must be revealed.
Cecilia's decision to build her entire relationship with Edward on a lie despite numerous opportunities to tell the truth has been a point of contention for some readers.
I didn't find that, mostly because I think these tales are sometimes told tongue in cheek, and it makes them sound more like fiction than reality. Though I found both Cecilia and Edward interesting, if forced to choose between them I wouldn't go to bat for either one.
They are both very lovely, yet rather monotonous in their straightness. (Although, near the end of the story, Cecilia does get into a spectacular verbal scuffle with a total stranger. If only we'd taken a better look at that fire earlier on.
Not as intensely passionate as Julia Quinn's other works, but still a pleasant read. It's primarily about comedic situations and cute/nervous exchanges between the non-married couple as they get to know each other. The novel's narrow emphasis was exacerbated, in my opinion, by the absence of any other major characters.
The other army officers and the baker's wife would have made great secondary characters. There were indications of espionage and intrigue that would have made for fascinating reading, but they were never developed.
While not my favorite Julia Quinn novel, this one does a great job of setting up Andrew Rokesby's tale. I know I can always count on a good time reading and escaping into another world with one of Quinn's works.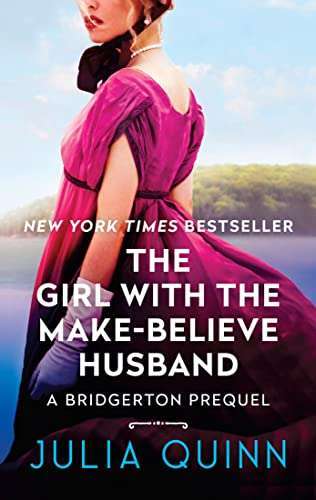 3. The Other Miss Bridgerton
The Other Miss Bridgerton is the third book in Bridgerton Prequels in order. Julia Quinn is (almost) alone in her ability to pen simmering historical romances. She also manages to accomplish this with some of my all-time favorite characters, and The Other Miss Bridgerton is no exception.
Privateer Andrew and his crew are obliged to take Poppy Bridgerton onboard after she discovers their coastal hideout while delivering dispatches for the Foreign Office between Spain, Portugal and England. Therefore, Poppy has no alternative but to go to Lisbon with the ship.
Despite the short time they spend together (just six days), their relationship feels natural and not at all instalove-y, which is one of the many reasons I like this novel so much. Great buildup of suspense as Andrew and Poppy's relationship develops slowly (they don't even kiss until the last 20% or so!).
They also follow one of my all-time favorite tropes: the transformation of disdain for one person into adoration for another.
I like them together almost as much as Billie and George did in the first book, and that's saying a lot. (Billie and George also made a cameo appearance at the novel's finale, which I enjoyed; however, now I want to reread their book more than ever.)
While I enjoy the romance in many historical romances, I sometimes find myself disliking the main characters. Not the case with this book by any stretch of the imagination. I loved Andrew and Poppy a lot, despite Andrew's tendency to rely too heavily on rake stereotypes.
She had some similarities to Billie, the series's best character, but was unmistakably her own person. As for me, I'd start with Poppy and read a hundred more volumes about the Bridgertons.
I'm at a loss for what further to say about the book, other than what I've already mentioned. It's one of those that leaves you at a loss for words to describe how much you enjoyed it. But in an effort to do so, I will say that this book has inspired me to want to read nothing but historical romances.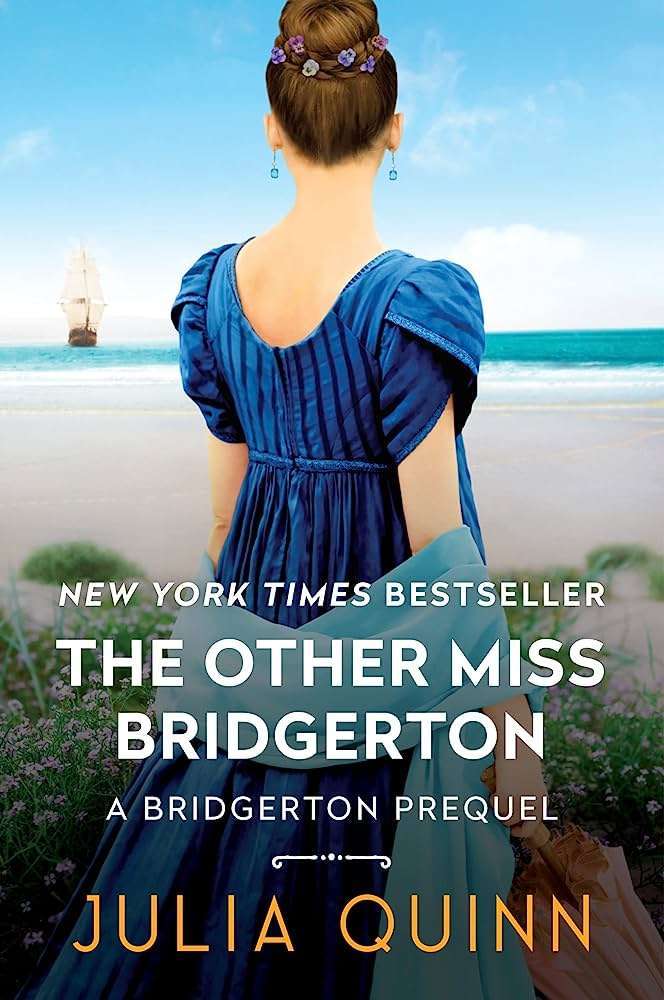 4. First Comes Scandal
First Comes Scandal is the fourth book in Bridgerton Prequels in order. Nicholas Rokesby has known Georgie and her siblings their whole lives. They grew up together and shared many adventures thanks to the proximity of their respective family properties. When his father mysteriously sends him a letter ordering him to come home immediately, he is baffled.
Nicholas, upon his arrival, is shocked that his father has urged him to abandon his medical studies in order to fulfill his duty and marry Georgiana Bridgerton so that she might restore her family's good name.
He and his family attend dinner with the Bridgertons, and for the first time, a discomfort arises between him and Georgie, and she has no idea why. He demands some time to think about the concept.
I admire Georgie's candor in the face of the destruction of her reputation. Although she occasionally has periods of extreme stress, once those periods pass, she returns to being a positive, inquiring, and enthusiastic young woman.
After she finds out the truth, she and Nicholas have even more fun together than they did before, especially after she decides to reconsider her earlier rejection of Nicholas's proposal and marry him anyhow.
After the wedding, the newlyweds move to Scotland, where Nicholas is pursuing his education, and where Georgie's cats provide them with endless entertainment. Their honeymoon phase may be a source of frustration for the couple, but it makes for great reading. It's great fun to see how interested and involved Georgie is in Nicholas' research; she's always full of questions and eager to learn more.
And the part where her footman has trouble paying attention in a medical lecture is both hilarious and touching. There are several touching exchanges between these two as the plot develops.
Since I've recently become somewhat disillusioned with historical romance, I think it's time I got back to reading one of my favorite authors, Julia Quinn. This book has confirmed my suspicions about that. I think I'll go back to the beginning of the series and reconnect myself with the Bridgertons, promising myself that this time I'll read them all in order.