Synopsis of Never Lie by Freida McFadden
Tricia and Ethan, newlyweds, are on the hunt for their ideal home.
But a terrible winter blizzard strands them at the estate when they visit the isolated house that had belonged to Dr. Adrienne Hale, a famous psychiatrist who disappeared without a trace four years before. Having no way out till the blizzard finally ends, they waited.
When Tricia goes looking for a book to read to pass the time till the snow stops falling, she discovers a hidden room. One that includes transcripts of Dr. Hale's interviews with all of his patients. Tricia is horrified to hear the events leading up to Dr. Hale's disappearance and disappearance itself unfold on the cassette tapes she listens to.
Later and later, Tricia listens to the tapes one by one. Dr. Adrienne Hale's elaborate network of falsehoods begins to collapse with each new revelation.
Tricia finally finishes the last tape. The one that exposes every gruesome detail.
My Opinion
When I first started reading Never Lie by Freida McFadden, I found myself enjoying it. It has some interesting presumptions. Tricia and Ethan, newlyweds, have an appointment with a broker to view a majestic manor that may or may not be their dream home, depending on its price. It's enormous, stunning, and replete with secret passages and chambers. I was excited by the story until this point.
The real estate agent doesn't show up, and a major snowstorm hits. Tricia and Ethan are trapped by the snowstorm and decide to spend the night at home. While Tricia grows increasingly worried and dislikes the mansion, Ethan is instantly enamored by its ominous air. Strange items of clothing from the previous tenants are worn, and they find unexpected food in the refrigerator.
Dr. Adrienne Hale, the former owner, was a prominent psychiatrist who vanished and is thought dead. I was engrossed in this section of the book from beginning to end. The missing therapist was devoted and bright, and she treated problematic individuals out of her home.
This tense psychological thriller benefits much from the stark isolation of its setting. The narrative jumps back and forth in time from the current day, when Tricia and Ethan are temporarily staying at Dr. Hale's home, to Dr. Hale's life and her recorded sessions with her patients. McFadden has succeeded in engaging me in the plot up to this point.
The story takes an unexpected turn after an apparently minor incident sparks a wave of revenge actions. The plot takes an unexpectedly grim turn. Nothing is what it seems, and there is no one for the reader to root for. The main disclosure is a startling twist that actually surprised me, yet it left me feeling quite sad at the same time.
I worried about Luke and shook my head when decent individuals were tossed aside and slaughtered because they were in the way. There is no compassion or bravery here; only heartless people trying to rationalize their evil. I don't understand McFadden's point. Is it true that everyone can do evil things?
Certainly, I'm hoping not. Delilah, as a young child, eagerly anticipates her mother's reaction to the daisies she brings her. The naivety is tragic, especially in light of the book's final act, which presents gloom as though each character were competing to be the most repulsive.
The first part of McFadden's book is well-written and interesting, but the latter half, which includes some really uncomfortable moments, is off-putting.
Overall, I will give it a 3 out of 5 stars. Worthy of reading but don't expect much.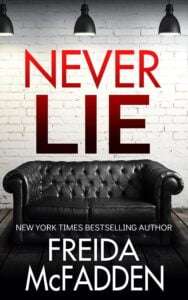 *As an Amazon Associate, 'The Crimson Books' earn from qualifying purchases.